SKU: 001361200
Twist-O-Flex™ Band Compatible For Use With The Apple Watch® (series 1-8) 38/40/41mm
Where High-Tech Meets Style & Comfort
It's time to level up. Upgrade your Apple Watch® with a band that is timeless, dependable, and comfortable. Speidel watch bands are revered for their sturdy durability and effortless style. The Twist-O-Flex™ band in particular is praised for its maximum support, water resistance, and effortless vibe. When paired with your high-tech face, you have the ultimate accessory for every occasion.
Reviews
Size Guide ↗
Twist-O-Flex™ Band Compatible For Use With The Apple Watch® (series 1-8) 38/40/41mm
Size Guide
Apple Watch Band Sizes for 38/40/41mm (Apple Watch Series 1 - Apple Watch Series 8) 
| | | |
| --- | --- | --- |
| Size | Fits Wrist Size ( CM) | Fits Wrist Size ( Inches) |
| 2 | 13.5 | 5.3 |
| 3 | 14 | 5.5 |
| 4 | 14.5 | 5.7 |
| 5 | 15 | 5.9 |
| 6 | 15.5 | 6.1 |
| 7 | 16 | 6.3 |
| 8 | 16.5 | 6.5 |
| 9 | 17 | 6.7 |
| 10 | 17.5 | 6.9 |
| 11 | 18 | 7.1 |
| 12 | 18.5 | 7.3 |
| 13 | 19 | 7.5 |
| 14 | 19.5 | 7.7 |
| 15 | 20 | 7.9 |
| 16 | 20.5 | 8.1 |


View our Band Length Sizing Guide
If you are on the line between sizes, we recommend choosing the larger size as you can remove links with the use of our link removal guide. You can also visit a local authorized Speidel jeweler and have it sized for you.
If you need a size that is larger than our current offerings, additional links can be added. Visit speidel.com for additional link kits.
Compatibility:
This Apple Watch® band is compatible with Apple Watch®

Series 1- 

Apple Watch® 

Series 8

.
Sturdy style:
Combining sturdy stainless steel construction with effortless style and class, the Twist-O-Flex™ Apple Watch® band offers maximum support and comfort while providing resistance to water and sweat.
Choose your size:
Available in 38mm, 40mm, 41mm, 42mm, 44mm, and 45mm. Band length can expand an additional 5" from its original size. Need a custom length? View

our step-by-step guide

on how to size your Twist-O-Flex™ Watch band.

Choose your finish:
Style available in brushed, black, or silver.
Apple Watch® is a trademark of Apple, Inc.
Over 118 Years Of Quality Craftsmanship
  Built for the long haul
With its stainless steel construction, the Twist-O-Flex™ band is built to carry you day in and day out.

 

 

 

Fit for all
The Twist-O-Flex™ large expansion range is sure to provide the perfect fit with its simple, adjustable band length and easy on, easy off construction.

 

 

 

Created for comfort
Our patented Twist-O-Flex™ design was built to maximize comfort while creating a sleek, easy-to-wear design.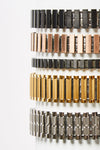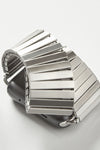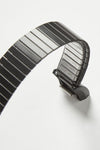 Love the band
I had been looking for this band for a long time. Finally found it and ordered it. The band arrived quickly. Nicely wrapped. The band fit nicely on my Iwatch. I am women who likes big watches , but this band was so masculine looking, I had to send it back. I wish they had the same band only a bit slimmer. I have not gotten the refund as of yet.
Even better than it looks online
I was unsure about ordering the "brushed" style, as I couldn't tell from the photos how it'd look with the Starlight color of my Apple Watch case. Indeed, the color isn't identical, but they look great together, and I've already received several compliments.
More important, I'm enjoying the ease, comfort, and reliability of a true Twist-o-Flex band (of which I've had at least two, over several decades) and trust the quality of Speidel products.
Quality Customer Care
Very pleasant and nice to speak with. Knowledgeable of all facets of product line. Resolved my need very quickly..
Excellent Customer Service
Needless to say- Speidel's Twist-O-Flex is a great product and I'm enjoying wearing it with my new Apple Watch.
In addition- I was very impressed and thankful- for the service I received from Kate at Speidel's office in Rhode Island. She was patient, calm and very helpful in resolving my problem.
Kate is a true representative of great customer service and a nice person- as well. Thank you Kate and thank you Speidel.
Love it.
My father wore a similar watch band his entire life. I purchased this as a tribute to wear to his funeral. It's well made and fit nicely. Thank you!

Processing Engraving...