SKU: 001372222
Twist-O-Flex™ Band Compatible For Use With The Apple Watch® (series 1-8) 42/44/45mm
Where High-Tech Meets Style & Comfort
It's time to level up. Upgrade your Apple Watch® with a band that is timeless, dependable, and comfortable. Speidel watch bands are revered for their sturdy durability and effortless style. The Twist-O-Flex™ band in particular is praised for its maximum support, water resistance, and effortless vibe. When paired with your high-tech face, you have the ultimate accessory for every occasion.
Reviews
Size Guide ↗
Twist-O-Flex™ Band Compatible For Use With The Apple Watch® (series 1-8) 42/44/45mm
Size Guide
Apple Watch Band Sizes for 42/44/45mm (Series 1-7) 
| | | |
| --- | --- | --- |
| Size | Fits Wrist Size ( CM) | Fits Wrist Size ( Inches) |
| 2 | 14.5 | 5.7 |
| 3 | 15 | 5.9 |
| 4 | 15.5 | 6.1 |
| 5 | 16 | 6.3 |
| 6 | 16.5 | 6.5 |
| 7 | 17 | 6.7 |
| 8 | 17.5 | 6.9 |
| 9 | 18 | 7.1 |
| 10 | 18.5 | 7.3 |
| 11 | 19 | 7.5 |
| 12 | 19.5 | 7.7 |
| 13 | 20 | 7.9 |
| 14 | 20.5 | 8.1 |
| 15 | 21 | 8.3 |
| 16 | 21.5 | 8.5 |
| 17 | 22 | 8.7 |
| 18 | 22.5 | 8.9 |


View our Band Length Sizing Guide
If you are on the line between sizes, we recommend choosing the larger size as you can remove links with the use of our link removal guide. You can also visit a local authorized Speidel jeweler and have it sized for you.
If you need a size that is larger than our current offerings, additional links can be added. Visit speidel.com for additional link kits.
Compatibility
This Apple Watch® band is compatible with Apple Watch®

Series 1- 

Apple Watch® 

Series 8 and the Apple® Watch Ultra

.
Sturdy style:
Combining sturdy stainless steel construction with effortless style and class, the Twist-O-Flex™ Apple Watch® band offers maximum support and comfort while providing resistance to water and sweat.
Choose your size:
Available in 38mm, 40mm, 41mm, 42mm, 44mm, and 45mm. Band length can expand an additional 5" from its original size. Need a custom length? View

our step-by-step guide

on how to size your Twist-O-Flex™ Watch band.

Choose your finish:
Style available in brushed, black, or silver.
Apple Watch® is a trademark of Apple, Inc.
Over 118 Years Of Quality Craftsmanship
  Built for the long haul
With its stainless steel construction, the Twist-O-Flex™ band is built to carry you day in and day out.

 

 

 

Fit for all
The Twist-O-Flex™ large expansion range is sure to provide the perfect fit with its simple, adjustable band length and easy on, easy off construction.

 

 

 

 

Created for comfort
Our patented Twist-O-Flex™ design was built to maximize comfort while creating a sleek, easy-to-wear design.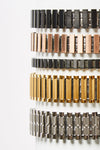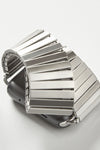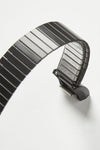 Will the band fix my Apple Watch Ultra 2 ?
I recently purchased a Apple Watch Ultra 2 . I'm wanting to put a Speidel twistoflex band on it.
The back of the watch clearly says 49 MM . In all the advertisements the highest I've ever seen was 45MM. Never have is seen a 49 MM. please advise .
Absolutely 'Strapping'
The strap arrived in timely manner, extremely well packaged and easy to fit.
To date very pleased with purchase.
Great match
I've tried many of the Apple watch bands available from Amazon and frankly was disappointed in each of them. They look and feel cheap. I recently bought the Apple Watch Ultra and found the band that came with it unusable. First I tried a Speidel knock-off made in China which broke after a month. Not wanting to lose an $800 watch due to a broken band, I finally ordered a Twist-O-Flex and sized it using instructions available on YouTube. Now it's the perfect fit. The finish of the band closely matches the Titanium case of the Ultra. The best part of the Speidel band is I no longer have to keep inputing the passcode because the watch is held tight against my wrist but not too tight. I highly recommend this band.
The black color rubs off
I initially purchased a black band to use on my black watch. Speidel needs to rethink the black band for the Apple Watch. The black coloring wears off with light contact with clothing spoiling the look of the band. Speidel either needs to switch to PVD plating or make a Romunda band for the black watch. I bought a brushed steel band to replace the black band and it looks fantastic on my black watch. I don't recommend the black band.
Great watchband option for your Apple Watch
I didn't know that Speidel made a Apple Watch band version. I was searching for a replacement to the traditional Apple watchband I had. Finding the Speidel website reminded me of the quality Speidel products I've owned over the years. I had no hesitation about ordering a watchband. The size chart provided by Speidel helped in determining which watchband size to order. Easy to order using their website along with prompt delivery. Speidel quality still exists in the Twist-O-Flex brand. I'm extremely happy with my purchase and will continue to support this brand in the future.

Processing Engraving...