SKU: 00188215
Ladies' 12-16MM Straight Adjustable End Wrapped Link Band in Dual Tone, Gold and Silver
CHIC, EFFORTLESS STYLE
When chic style and comfort collide. Our Ladies' 12-16mm Wrapped Link Band is a feminine and sleek choice to add to your collection. Its chunky link design makes a statement and is easy-to-wear in both professional and casual settings. With a straight adjustable end, it is easy to find a comfortable fit for your wrist - and style should never sacrifice comfort. That's our promise.
This band comes in silver, gold, or dual tone.
Reviews
Size Guide ↗
Ladies' 12-16MM Straight Adjustable End Wrapped Link Band in Dual Tone, Gold and Silver
Size Guide
Strap Length

 165.6 millimeters / 6.52 inches 

Strap Width

16 - 12 

millimeters / 0.63 - 0.47 inches Tapered
Strap Thickness
3 millimeters / 0.12 inches
Strap Material
Stainless Steel
Strap Type
Link, Non Expansion
End Type
Adjustable Straight End
End Width 
16 millimeters / 0.63 inches
Compatible With 
Most 12 - 16 millimeter watches
Band features:
This band is 12-16mm and has a straight adjustable end.
Overall band length:
The overall band length is 6.375 - 6.625" with a maximum buckle adjustment of +1 (depending on buckle style). 

The end piece of the band will fit a range of watch heads from 12-16mm. The actual band size of this watch strap is 13.5mm and tapers to 12mm. 

Easy to adjust:
With the ability to expand, you can adjust your band to accommodate your wrist size.
Over 118 Years Of Quality Craftsmanship
Durable Construction
Metal bands that are built to last. Our bands are made with high quality, scratch resistant, solid stainless steel construction for everyday wear.
Versatile Style
Day or night, formal or casual. Our metal bands are suited for everyday wears and formal affairs.
Adjustable sizing
With removable links, a wide range of widths and spring loaded tips for precise sizing, our metal bands are made to fit every wrist.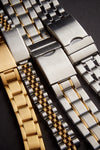 Processing Engraving...