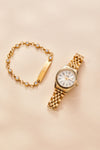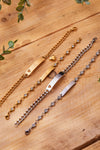 SKU: 00500900
Stainless Steel Identification Bracelet with Stones
PERSONALIZED, SENTIMENTAL STYLE
Designed for the woman with a flair for style and sophistication, our ladies' ID bracelets are sleek, delicate, and durable. The smooth plaque is the perfect place for a personal engravement. This bracelet in particular is made with stainless steel and boasts a glamorous crystal chain for a touch of sparkle.
Whether you choose to engrave something personal or purchase as a sentimental gift for someone else, you know you're getting something that will last a lifetime.
Available in silver.
Get personal:
Style should always be personal. That's why you have the option to engrave a name or short sentiment on the smooth, polished plaque.
Long-lasting:
While delicate in design, these bracelets are made with high-quality materials and a chain that is durable and sure to last.
Additional features:
This ID bracelet is 7.25" - 7.75" in length and features a unique crystal chain - perfect for those who love a bit of glitz and glam.
Over 118 Years Of Quality Craftsmanship

Processing Engraving...