SKU: 001459200
Twist-O-Flex™ Band for the Fitbit Alta and Alta HR
Effortless Style Meets Sport
Back in 1959, the original Twist-O-Flex™ revolutionized watch band design. Continuing to flourish in the industry, we are proud to say that this style is available to compliment your beloved Fitbit. Our watch bands effortlessly combine style with sport, taking your Fitbit to a whole new level of fashion and comfort.

With a classic stainless steel style, these bands are suitable for a professional or casual setting. We offer a wide variety of colors and styles - explore our band selection to find the perfect fit for your Fitbit.
Reviews
Size Guide ↗
Twist-O-Flex™ Band for the Fitbit Alta and Alta HR
Size Guide
Fitbit Alta/ Alta HR Band Sizes
| | | |
| --- | --- | --- |
| Band Size | Wrist Size (in inches) | Wrist Size (in mm) |
| XXS | 4.7" – 4.9" | (120 - 125)  |
| XS | 5.3" – 5.5" | (135 - 140)  |
| S | 5.7" – 5.9" | (145 - 150)  |
| M | 6.5" – 6.8" | (155 - 160)  |
| L | 6.7" – 6.9" | (170 - 175)  |
| XL | 7.1" – 7.3" | (180 - 185)  |
| XXL | 7.5" – 7.7" | (190 - 195)  |
| XXXL | 8.1" – 8.3" | (205 - 210)  |

View our Band Length Sizing Guide
If you are on the line between sizes, we recommend choosing the larger size as you can remove links with the use of our link removal guide. You can also visit a local authorized Speidel jeweler and have it sized for you.
If you do not see your size above, please order the custom size option and email info@speidel.com your wrist size. We will happily custom the band to fit your wrist.
If you need a size that is larger than our current offerings, additional links can be added. Visit speidel.com for additional link kits.
Compatibility:
This Twist-O-Flex™ band is compatible with your Fitbit Alta and Alta HR.
Materials:
The stainless steel construction of this band boasts impressive strength and water resistance. It's the perfect companion to make your Fitbit work for you outside the gym.
Easy on, easy off:
There's no need to struggle with a clasp or buckle when you choose the Twist-O-Flex™ band. It features a large expansion range of up to 4" inches, allowing you to easily put on and take off as needed.
Choose your finish:
Style available in silver and black.
Over 118 Years Of Quality Craftsmanship
Built for the long haul
With its stainless steel construction, the Twist-O-Flex™ band is built to carry you day in and day out.
Fit for all
The Twist-O-Flex™ large expansion range is sure to provide the perfect fit with its simple, adjustable band length and easy on, easy off construction.
Created for comfort
Our patented Twist-O-Flex™ design was built to maximize comfort while creating a sleek, easy-to-wear design.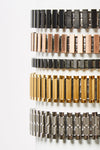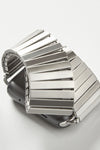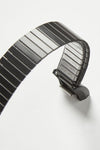 Fitbit Twist o flex
Love being able to take off watch faster!
Been using Twist-O-Flex bands for 40 years still the best
no more messing with the buckles putting the fitbit on or taking it off, great quality band and end clips. Worth every penny.
Easy To Wear
So comfortable and easy to wear without any hooks or clasps. I ordered slightly too big, but just push it up and it's working out fine. I really love the stretch. the ease of wear, and looks really good on! I'm very happy I got it, great product!
Twist-O-Flex Band
This band is wonderful. I wish I had purchased it a long time ago. It looks so much better than the rubber band that came with my fitbit.

Processing Engraving...