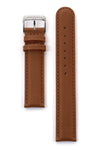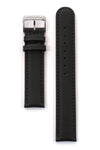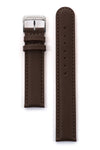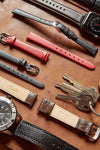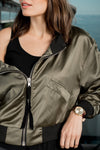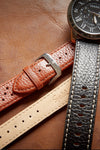 SKU: 705100721
Men's Pepe Leather Band
Traditional Style & Comfort
Designed using materials of the highest quality, our leather watch bands are timeless, traditional, and comfortable. Our Men's Pepe Leather Band is an affordable 100% genuine leather band. It features a cut-edge design that is noticeably padded with tone-on-tone stitching. The rounded tip gives this band a clean finish. It is a handsome statement piece to have in your collection.
All of our bands are easy to install, adjust, and remove so that you can pair your favorite watch face with an unlimited number of styles.
Reviews
How to Change
Size Guide ↗
Men's Pepe Leather Band
Size Guide
Strap Length

Regular: 185.42 - 195.58 millimeters / 7.3 - 7.7 inches

Strap Material
100% Genuine Cowhide

 

Leather, Nubuck lining
Strap Type
Leather, Non-Expansion
Buckle Type
Pin Buckle
Buckle Material
Stainless Steel
Compatible With 
Most 16mm, 18mm, 19mm, 20mm, 22mm, or 24mm Watches
Genuine calfskin leather: Made with 100% genuine cowhide leather, you'll feel confident with a band that is high-quality and easy to wear with any style or for any occasion.

Regular length: The total length of our regular is 7.3" - 7.7".

Choose your style: This band is available in the color black, brown, or honey. The polished stainless steel buckle comes in gold tone and silver tone, so that you can choose and change your style with ease.
Over 118 Years Of Quality Craftsmanship
A good fit.
I bought this is Honey to compliment the new Eco Pop (Navy). The color is lovely and installing it was mostly easy! I did fumble a bit with the mechanism, but that may have been mostly due to my inexperience. I sadly did scratch the leather a bit when attempting to install it, but not horribly so. That's the only downside. The leather is aging nicely the more I wear it, becoming soft and easy to manipulate onto my wrist. Speaking of! I am AFAB and this fits nicely on my slim wrist.
A Positive Purchase
I am satisfied w the product. Delivery was timely. The leather watch band is attractive, and I judge this item to be a good value—it would be too easy to spend much, much more for leather bands. I would readily do business w Speidel again.
Men's Pepe Leather Band in Black, Brown and Honey
The end lie Brock already
Nice watch band
Delivered quickly and was the perfect size.

Processing Engraving...