SKU: 885700001
Bill Binder - Money Clip & Credit Card Holder
CLIP. SNAP. SLIDE.
Built with high grade 316 stainless steel, the Bill Binder is firm, durable, and sleek. We spared no expense when developing this money clip because we understand the importance of keeping your valuables secure. With close attention to detail, we dedicated over two years of designing, building, and testing until we achieved perfection. The result? A high-end clip that is not only attractive, but 100% secure.
Easy as 1, 2, 3:
Simply CLIP your cash and cards, SNAP the handles forward, and SLIDE into your pocket.
Taking simplicity a step further:
The Bill Binder was inspired by those who use traditional paper binder clips to hold their cash and credit cards. We took simple to a whole new level of security and style.
Maximum security:
There's no need to worry about the loss of bills or cards because the Bill Binder is designed to firmly hold your valuables in place. A secure two-point grip design provides extra coverage while a high grip tooth pattern ensures maximum hold. Whether you carry as little as 1 bill or 75 bills, the self-adjusting spring has you covered.
Over 118 Years Of Quality Craftsmanship
Personalize It
Whether this is for yourself or you are gifting it, it's always nice to add a personal touch. Have something special written on the engraveable back plate.
Pick Your Style
The Bill Binder is featured in a variety of styles, including: brushed satin, brown leather, carbon fiber, or textured rubber.
Built To Last
We use high-quality materials, such as high grade 316 stainless steel, to ensure a long-lasting, trusted pocket pal.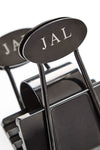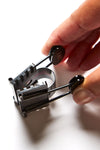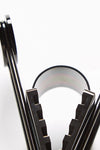 Best ever
Of all the money clips I've owned. I carry 10 or more bills, my drivers license and a couple of credit cards, no problems. Also a lot of comments on how nice it looks.
Amazing
Why in the world would anyone pay 99 dollars for a glorified money clip.
If interested I have pure breed pet rocks for the low low price of only $220.00
Stylish & high utility value
I use binder clips for everything. Saw this Speidel Bill Binder; had to have it. Fantastic. Looks great & holds a nice stack!!
I'd give it 6stars, but after a few months, the metal spring broke. I called Speidel & a very efficient & effective cust svc woman issued a replacement that very same day.
I think it's about the best clip I use. Heavy, but when full, that's a good thing !!!! Holds a lot. Just what I wanted. Glad I found it.
money clip
I bought this as a gift for a friend who was using an office clip as his wallet. This is exactly what I was looking for and my friend LOVES it!!
Really nice practical Money clip

Processing Engraving...