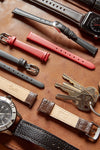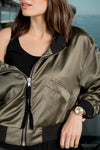 SKU: 70992901A38SS
Genuine Luxury Leather Band Compatible For Use With The Apple Watch®
Over 118 Years Of Quality Craftsmanship
Very pleased.
Very nicely finished and a perfect fit! A quality product.
Great, but buckle could be more refined.
The band just arrived and it looks and feels very nice. I got the dark brown and it's really dark, almost black. But it should lighten up. The main thing I'd change is to provide a slimmer buckle with rounded corners. This one's a bit too wide and square, imo.
Very nice appearance and fit

Processing Engraving...