SKU: 70963920A38SS
Royal English Leather Band Compatible For Use With The Apple Watch® (series 1-8)
Where High-Tech Meets Style & Comfort
It's time to level up. Upgrade your Apple Watch® with a band that is timeless, dependable, and comfortable. Speidel watch bands are revered for their sturdy durability and effortless style. The Royal English leather band is made with genuine calfskin leather, pairing tradition with comfort. It is the perfect compliment to your high-tech face and the ultimate accessory for every occasion.
Compatibility:
This Apple Watch® band is compatible with Apple Watch®

Series 1- 

Apple Watch® 

Series 8, and the Apple® Watch Ultra (42/44/45mm)

.
Traditional style:
You can't go wrong with classic leather. Made with genuine calfskin leather, choose a color combination to compliment your personal style.
Choose your size:
Available in 38mm, 40mm, 41mm, 42mm, 44mm, and 45mm. The total length of our regular is 7.3" - 7.7".
Apple Watch® is a trademark of Apple, Inc.
Over 118 Years Of Quality Craftsmanship
Premium Leather
Style, comfort and quality in every band. With 100 years of experience, we know how to build leather bands that last.
Classic Style
The leather band will never go out of style and with our expansive selection of sizes, colors and textures you can easily update your look. Equipped with silver and gold buckle and pins to always keep you looking your best.
Maximum Comfort
With various sizing options, premium leather and Nubuck lining and quality stitching, our leather bands will maintain comfort day in and day out.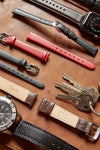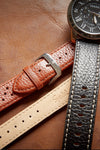 Quality Leather Apple Watch Band
The Speidel Royal English Leather Band is of very good quality. The leather, stitching, and buckle dress up the watch for occasions when a rubber or nylon watch band may be less appropriate. I prefer the black buckle, however a silver version is available. I have owned several Speidel leather bands for the Apple Watch and they have always been of the same good quality. They also look good when wearing more casual clothing, such as a blazer with slacks or nice jeans. The band is on an Apple Watch SE.
Nice Quality
The customer loved the strap ( color and quality of leather), but mentioned she wished she could have ordered a short length for her size 6 wrist.
Apple Watch replacement band
Looks nice. Seems to be of good quality. I have not used yet
Speidel's Leather Bands Are As Good As Their Twist-O-Flex!
I've always liked Speidel's Twist-O-Flex bands, from back in the 1960's to today, but I noticed they have some new, good-looking leather bands on their website and decided to try one. It was even on one of their periodic sales. It is now the band I use most often on my Apple Watch, it looks GREAT - like it was made with the Apple Watch in mind (I think it was!), and it feels good to wear, also. At this point, I use Speidel bands pretty much all the time.

Processing Engraving...