SKU: 001479422
Twist-O-Flex™ Band for the Fitbit Charge 3 & Charge 4
Effortless Style Meets Sport
Back in 1959, the original Twist-O-Flex™ revolutionized watch band design. Continuing to flourish in the industry, we are proud to say that this style is available to compliment your beloved Fitbit. Our watch bands effortlessly combine style with sport, taking your Fitbit to a whole new level of fashion and comfort.
Reviews
Size Guide ↗
Twist-O-Flex™ Band for the Fitbit Charge 3 & Charge 4
Size Guide
Fitbit Charge 3 Band Sizes
Band Size
Wrist Size (in inches)
Wrist Size (in mm's)
XS
5.6" – 5.8"
143 – 147 mm
S
6.2" – 6.4"
158 – 162

 mm

M
6.8" – 7.0"

172 – 176 mm

L

7.6" – 7.8"

193 – 197 mm

XL

8.8" – 9.0"

223 – 227 mm

View our Band Length Sizing Guide
If you are on the line between sizes, we recommend choosing the larger size as you can remove links with the use of our link removal guide. You can also visit a local authorized Speidel jeweler and have it sized for you.
If you need a size that is larger than our current offerings, additional links can be added. Visit speidel.com for additional link kits.
Compatibility:
This Twist-O-Flex™ band is compatible with your Fitbit Charge 3 and Charge 4.
Materials:
The stainless steel construction of this band boasts impressive strength and water resistance. It's the perfect companion to make your Fitbit work for you outside the gym.
Easy on, easy off:
There's no need to struggle with a clasp or buckle when you choose the Twist-O-Flex™ band. It features a large expansion range of up to 5" inches, allowing you to easily put on and take off as needed.
Over 118 Years Of Quality Craftsmanship
Built for the long haul
With its stainless steel construction, the Twist-O-Flex™ band is built to carry you day in and day out.
Fit for all
The Twist-O-Flex™ large expansion range is sure to provide the perfect fit with its simple, adjustable band length and easy on, easy off construction.
Created for comfort
Our patented Twist-O-Flex™ design was built to maximize comfort while creating a sleek, easy-to-wear design.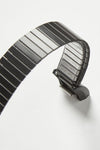 Twist-O-Flex Band for the Charge 3& Charge 4 From Speiidel
I received my new band within a few days and love it. It fits perfect.I ordered from Kate in order department. She was wonderful. I will order again soon. Sherry A.
The band was a gift and he loved it!!
Great quality, ordering was easy, and delivery was fast.
Strong, Sleek, Durable, Classy
I've been a watch guy for a long time. Now the FitBit Charge 3 fills the roll with fit and function. I was apprehensive about a flex band because I had been burned in the past. After doing my research I chose the Speidel and was more than happy with the performance. I have fairly hairy arms and it does not tug at my hair or pinch my skin. It seems the band is aging at the same pace as the FitBit so the band looks like it is in it for the long run. I am jazzed about my purchase.
2nd band
I love the new band I purchased for my new Fitbit.
L.Mossa
Speidel twist-o-flex band for Fitbit Charge 4.
This band is great. Easy to put on and no more catching on clothing.

Processing Engraving...