SKU: 001449100
Twist-O-Flex™ Band for the Fitbit Charge 2
$39.95 $50 You Save 20% ( $10.05)
Effortless Style Meets Sport
Back in 1959, the original Twist-O-Flex™ revolutionized watch band design. Continuing to flourish in the industry, we are proud to say that this style is available to compliment your beloved Fitbit. Our watch bands effortlessly combine style with sport, taking your Fitbit to a whole new level of fashion and comfort.

With a classic stainless steel style, these bands are suitable for a professional or casual setting. We offer a wide variety of colors and styles - explore our band selection to find the perfect fit for your Fitbit.
Reviews
Size Guide ↗
Twist-O-Flex™ Band for the Fitbit Charge 2
Size Guide
Fitbit Charge 2 Band Sizes
| | | |
| --- | --- | --- |
| Band Size | Wrist Size (in inches) | Wrist Size (in mm's) |
| XXS | 5.1" – 5.3" | (130 - 135) |
| XS | 5.5" – 5.7" | (140 - 145) |
| S | 5.7" – 5.9" | (145 - 150)  |
| M | 6.5" – 6.7" | (165 - 170) |
| L | 6.9" – 7.1" | (175 - 180) |
| XL | 7.3" – 7.5" | (185 - 190) |
| XXL | 7.9" – 8.1" | (200 - 205) |
| XXXL | 8.3" – 8.5" | (210 - 215) |

View our Band Length Sizing Guide
If you are on the line between sizes, we recommend choosing the larger size as you can remove links with the use of our link removal guide. You can also visit a local authorized Speidel jeweler and have it sized for you.
If you do not see your size above, please order the custom size option and email info@speidel.com your wrist size. We will happily custom the band to fit your wrist.
If you need a size that is larger than our current offerings, additional links can be added. Visit speidel.com for additional link kits.
Compatibility:
This Twist-O-Flex™ band is compatible with your Fitbit Charge 2.
Materials:
The stainless steel construction of this band boasts impressive strength and water resistance. It's the perfect companion to make your Fitbit work for you outside the gym.
Easy on, easy off:
There's no need to struggle with a clasp or buckle when you choose the Twist-O-Flex™ band. It features a large expansion range of up to 5" inches, allowing you to easily put on and take off as needed.
Choose your finish:
Style available in silver and black.
Over 118 Years Of Quality Craftsmanship
  Built for the long haul
With its stainless steel construction, the Twist-O-Flex™ band is built to carry you day in and day out.

 

 

 

Fit for all
The Twist-O-Flex™ large expansion range is sure to provide the perfect fit with its simple, adjustable band length and easy on, easy off construction.

 

 

 

 

Created for comfort
Our patented Twist-O-Flex™ design was built to maximize comfort while creating a sleek, easy-to-wear design.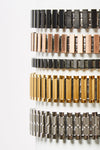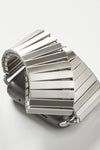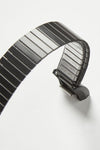 Great watchband!
Leather bands get stinky. Cloth/velcro bands wear out. And I didn't like the rubber one that came with my fitbit. I remembered the Twistoflex and found their web store. They had a Twistoflex for my Fitbit! Now I can just slip it on and off. And it looks great!
Best watch band ever
I love this band it doesn't move on my arm and it's so comfortable. I Justus love it .
great procuct
as always, Speidel comes through with a great product
Love my new Speidel Wristband!
I love this Fitbit wristand! I am shocked that they don't list your band. Any other bands that I've tried are too bulky and cumbersome. This speidel wrist band is perfect and doesn't move around my wrist like all the others. I will be sure to pass this on to all my fitbit friends.
Lois Mossa

Processing Engraving...