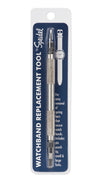 SKU: 02013700
Watchband Replacement Tool
SWITCH UP YOUR STYLE WITH EASE
It has never been easier to change up the style of your favorite timepiece. Using our Watch Band Replacement Tool, you'll be able to sport whichever band makes the most sense for your day, outfit, or next adventure. It allows you to easily remove and install spring bars. From metal to leather to silicone, you can have it all. This tool is a must-have for avid watch-wearers.
How to Replace, Step 1:
Insert fork end tip of tool between the old watch band and watch case lug. Firmly pry the spring bar inwards toward the center of the strap and away from the case.
Step 2:
Insert spring bar tip from the new watch band into the pinhole located on the inner side of the watch case lug.
Step 3:
Use the tool to compress the spring bar on the opposite end and maneuver the band into position. Once properly aligned, the spring bar will snap into place. ALWAYS be sure that the short band with the buckle is installed at 12 o'clock.
Step 4:
Repeat steps 1, 2, and 3 on opposite side.
Step 5:
Finally, pull on both bands to ensure that they are securely attached. Your new Speidel watch band is now ready to wear!
Over 118 Years Of Quality Craftsmanship
Watch band replacement tool
The tool was received quickly and it works well.
Still great after all these years
I bought the tool with a watchband, since NO ONE in my area sells and replaces Speidels. the Tool was excellent, instructions equally so and clear. Much happier with an original twist-o-flex than the previous band.
Watchband Replacement Tool
Great tool, great price!
Does the job and is much less expensive and better made than other more expensive tools.

Processing Engraving...