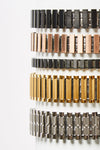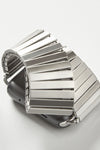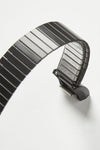 SKU: 001372222
Twist-O-Flex™ Band Compatible For Use With The Apple Watch® (series 1-8) 42/44/45mm
Where High-Tech Meets Style & Comfort
It's time to level up. Upgrade your Apple Watch® with a band that is timeless, dependable, and comfortable. Speidel watch bands are revered for their sturdy durability and effortless style. The Twist-O-Flex™ band, in particular, is praised for its maximum support, water resistance, and effortless vibe. When paired with your high-tech face, you have the ultimate accessory for every occasion.
Reviews
Size Guide ↗
Twist-O-Flex™ Band Compatible For Use With The Apple Watch® (series 1-8) 42/44/45mm
Size Guide
Apple Watch Band Sizes for 42/44/45mm (Series 1-7) 
| | | |
| --- | --- | --- |
| Size | Fits Wrist Size ( CM) | Fits Wrist Size ( Inches) |
| 2 | 14.5 | 5.7 |
| 3 | 15 | 5.9 |
| 4 | 15.5 | 6.1 |
| 5 | 16 | 6.3 |
| 6 | 16.5 | 6.5 |
| 7 | 17 | 6.7 |
| 8 | 17.5 | 6.9 |
| 9 | 18 | 7.1 |
| 10 | 18.5 | 7.3 |
| 11 | 19 | 7.5 |
| 12 | 19.5 | 7.7 |
| 13 | 20 | 7.9 |
| 14 | 20.5 | 8.1 |
| 15 | 21 | 8.3 |
| 16 | 21.5 | 8.5 |
| 17 | 22 | 8.7 |
| 18 | 22.5 | 8.9 |


View our Band Length Sizing Guide
If you are on the line between sizes, we recommend choosing the larger size as you can remove links with the use of our link removal guide. You can also visit a local authorized Speidel jeweler and have it sized for you.
If you need a size that is larger than our current offerings, additional links can be added. Visit speidel.com for additional link kits.
Compatibility: This Apple Watch® band is compatible with Apple Watch® Series 1-8 and the Apple® Watch Ultra.

Sturdy style: Combining sturdy stainless steel construction with effortless style and class, the Twist-O-Flex™ Apple Watch® band offers maximum support and comfort while providing resistance to water and sweat.

Choose your size: Available in 38mm, 40mm, 41mm, 42mm, 44mm, and 45mm. Band length can expand an additional 5" from its original size. Need a custom length? View our step-by-step guide on how to size your Twist-O-Flex™ Watch band.

Choose your finish: Style available in brushed, black, or silver.
Apple Watch® is a trademark of Apple, Inc.
Over 118 Years Of Quality Craftsmanship
Can't get any better than this!
I've had a TwistOFlex (TOF) forever, but once I started using an Apple watch, I thought I'd have to switch to something else. Luckily for me (and you!), TOF is available for any Apple Watch- Even the Ultra, which I presently have. The brushed silver fits much better for width, than the black- I have both, but the brushed silver looks better. I'm so completely happy with my two bands and the three before them since I really do not like buckles or ratchet type bands. I'm simple and old school- give me something instantly off and on! I've had to have them adjusted at a local jewelry shop due to my own ineptness with measuring. I highly recommend getting your band slightly larger, then getting it sized locally. You'll have the extra chips for any reason you need to add a bit. I have zero buyers remorse with the TOF, even though you can get knock offs for less than half the price. The quality of the 'real thing' cannot be understated. The knock offs (which I tried out), will pinch and not be able to be sized correctly. It's worth the money to get the best the first time.
It's Great!
I'll save multiple paragraphs about my first watch in the mid-60's and its Twist-O-Flex! Still have it!
Got the green AW8 with the green silicon band. Impossible to dress up! Okay fit, but borderline too tight or too loose?
Tried two other Apple-like styles. The mesh metal was nice (in steel) but magnets would slide it loose.
Struggled on my Twist-O-Flex order. What if it's too tight? Too loose?
Called local jeweler. They just told me if it was off, they'd size it.
Used a string and measured 7.1". Bought a size 9. It's perfect!
Fit keeps sensor to wrist. Accurate pulse and recordings!
Green metal and polished stainless? I'd give a photo, but it suits me! Just a great addition to my watch!
. . . and a bit of nostalgia!
Love my Spiedel watch band.
I had Spiedel watch bands in the 1960's and I loved them. I have been missing them for 30 years. I love my new Spiedel watch band for my Apple iWatch. It is elegant and convenient. No messing with clips and buckles.

Processing Engraving...