SKU: 706052920A38SS
Square Tip Oiled Leather Band Compatible For Use With The Apple Watch® (series 1-8)
Where High-Tech Meets Style & Comfort
It's time to level up. Upgrade your Apple Watch® with a band that is timeless, dependable, and comfortable. Speidel watch bands are revered for their sturdy durability and effortless style. Switch up your style with our Square Tip Oiled leather band, made from genuine calfskin leather. When paired with your high-tech face, you have the ultimate accessory for every occasion.
Compatibility:
This Apple Watch® band is compatible with Apple Watch®

Series 1- 

Apple Watch® 

Series 8 and the Apple® Watch Ultra (42/44/45mm).

Traditional style:
You can't go wrong with classic leather. Made with genuine calfskin leather, choose from one of our many color combinations to compliment your personal style.
Choose your size:
Available in 38mm, 40mm, 41mm, 42mm, 44mm, and 45mm. The total length of our regular is 7.3" - 7.7".
Apple Watch® is a trademark of Apple, Inc.
Over 118 Years Of Quality Craftsmanship
Premium Leather
Style, comfort and quality in every band. With 100 years of experience, we know how to build leather bands that last.
Classic Style
The leather band will never go out of style and with our expansive selection of sizes, colors and textures you can easily update your look. Equipped with silver and gold buckle and pins to always keep you looking your best.
Maximum Comfort
With various sizing options, premium leather and Nubuck lining and quality stitching, our leather bands will maintain comfort day in and day out.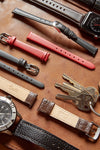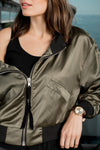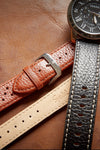 Excellent Quality, Superb Service
I purchased several watch bands for my iWatch. Adds a touch of elegance, class, and style. Very well pleased with my purchase and the service received. Thank you. Robert Black Eagle
Square Tip Oiled Leather for Apple Watch
It seems like Speidel's bands for Apple are geared toward men, as the wrist size is large. I'm a 5'10" woman who is not small boned and the band tip came too far around my wrist, so the tip stuck out and made most of the band two layers thick. The quality seemed fine for the price. Their customer service, however, was very responsive and good, as they sent me a pre-paid return label after I was sent the wrong color. Note that items on sale cannot ordinarily be returned, which means most of the bands for Apple.
I like it!
Oiled tip leather strap has like a matte finish with a little bit of shine. It's soft I like the branding at the back of it but maybe in a dark color so it won't get dirty when I sweat. Logo on buckle would be bigger so it's noticeable. And strap with the hole could have been longer maybe a centimeter more. Overall it's simple can be worn formal or casual. I like it.

Processing Engraving...